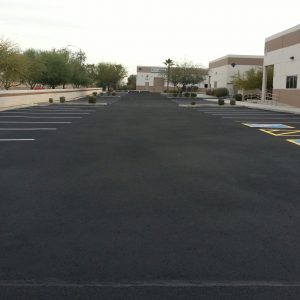 Is the driveway or parking lot of your business or home in need of new asphalt? Sunstar Seal Coating, Inc. is the most reliable asphalt contractor in Glendale, AZ. You can count on our talented teams to provide you with sensible, affordable repaving and asphalt repair solutions for your personal or commercial property.
We are known for working extensively with our clients, and delivering high-quality and satisfactory paving solutions. We stand by our work, and involve our clients throughout the entirety of the paving process. Our bonded, insured and licensed team wants to see your business back up and running as soon as possible, and consistently aims for the shortest amount of down time possible.
Our Services
Hiring an asphalt contractor is the best way to enhance your property's exterior and increase its curb appeal. Here are just some of the benefits you will experience if you hire Sunstar Seal Coating, Inc. as your asphalt contractor:
Versatility
Our asphalt paving services are extremely versatile, and can be used for parking lots, driveways and more. Asphalt is a soft and extremely long-lasting surface that can withstand more than two decade's worth of use with proper maintenance and care.
Advanced equipment
As the premier experts in paving in Glendale, Maricopa County, Peoria, and Phoenix, AZ, we maintain a stable of some of the most current and up-to-date paving technology. We operate a paving machine, roller and binder, in addition to a slew of other complex and complicated tools to ensure that your job is accomplished correctly and on-time.
Detailed work process
To avoid errors and mistakes, we implement a detailed and complex paving process. We communicate extensively with local utility providers to ensure that we will not be disrupting any energy or water flowage, and include paint striping in the pricing of our service quotes.
Reasons for Paving

Versatility 
Minimal Down Time
Easy to Maintain 
Curb Appeal
Hire Asphalt Contractors
If you are hoping to enhance the curb appeal of your home or business, don't delay. Call us today at 623-204-1302 to learn more about our paving services, and set up a consultation that meets the needs of your schedule.