Damaged asphalt looks bad and can reflect poorly on you as a property owner, Worse still, it can cause automotive issues and pedestrian hazards, leaving the door open for liability. As problems with your asphalt mount, call Sunstar Seal Coating, Inc. to have them fixed. We're more than just the leader in asphalt paving in Glendale, AZ—we're also capable of asphalt repair, no matter what kind of damages your surface faces.
What Causes Asphalt Damage?
Your asphalt is exposed to harsh conditions every day. Even well-paved surfaces eventually succumb to damage. There are three main detractors that will add up over time to cause damage to the surface: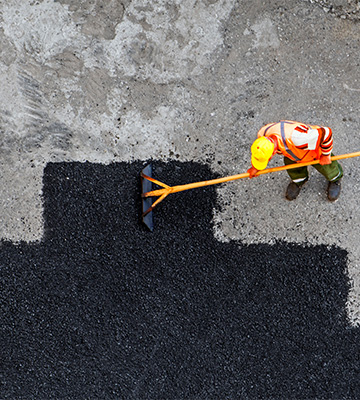 Wear and tear
After years of driving over it, your asphalt surface will eventually begin to crack and crumble—especially without proper maintenance. The more traffic it sees, the more it'll show signs of wear—especially with heavy traffic.
Weathering
Rain or shine, the elements take a toll on surfaces. Heavy rain causes surface chemicals like automotive oil to seep into material, causing damage. Then, hot sun dehydrates the surface, causing it to crack and crumble.
Moisture
Rain and moisture—especially standing water—can destroy these surfaces over time. Proper drainage is important before soft spots, sinking and erosion occur, which can lead to bigger damages in time.
Types of Asphalt Maintenance

Depending on the type of damage your surface faces or the extent of the problem, there are many different options for repair. We've helped businesses across Glendale, Maricopa County, Peoria, and Phoenix, AZ assess the scope of damage to their surfaces and make the right asphalt repairs to extend the life of their investment.

Patching

We'll use saws to clean-cut divots and damaged areas, so new material can be laid and patched into the surface. This is a great spot-treatment option for surface damages and an alternative to resurfacing when you only have one or two spots.

Resurfacing

If your surface is covered in cracks, crags and crumbling asphalt, it might be due for resurfacing. We'll apply a thin layer of asphalt overlay to the entire thing, restoring the integrity of the surface and protecting it from further wear.

Hot crack filling

Because we take the time to prepare extremely well when we're on site, that ensures the pouring process will happen exactly right every time. This kind of meticulous attention to detail is what guarantees best results on every job, and it's what will provide you with a long-lasting asphalt surface for years to come.
Surfaces We Repair
We're capable of delivering repair to residential and commercial surfaces throughout Glendale, AZ. This includes driveways, parking lots, roadways, sidewalks and any other surface that may be showing signs of wear and tear. We'll make sure your surface gets the right repairs, so it's protected against future damage.
Repair and Restore Your Asphalt
Sunstar Seal Coating, Inc. is the company to call for asphalt repair in Glendale, AZ. Whether we paved your surface years ago or someone else did it recently, we're prepared to deliver the patching, crack filling and resurfacing needed to bring it back to a like-new level of excellence. Contact us today at 623-204-1302 to schedule a consultation and let our asphalt contractors assess the right repair for your asphalt surface.