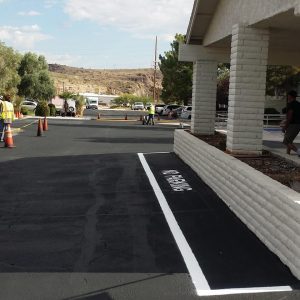 Sealcoating is a liquid sealant that is applied as a protective covering on paved asphalt surfaces. Sunstar Seal Coating, Inc. is the premier provider of asphalt sealcoating services in Glendale, AZ. You can rely on us to protect your paved surfaces against any elements that might weather them. We provide sealcoating services to commercial clients of all sizes.
By investing in a seal coat for your paved surface, you will be protecting your driveway or parking lot for years to come. Paying a professional and well-qualified asphalt contractor to enhance your paved asphalt service is a great way to make your place of business more attractive and increase traffic to your property.
Benefits of Asphalt Sealcoating
Asphalt sealcoating is an excellent way to protect your investment in pavement, and ensure that it remains attractive and easy to drive and walk on. Here are just some of the benefits you will experience by paying for services in Glendale, Maricopa County, Peoria, and Phoenix, AZ:
Professional appearance
Sealcoating services prevent cracks and ruts from forming in your asphalt, meaning it'll maintain a clean and professional-looking aesthetic.
Enhanced longevity
By protecting your paved surface from exposure to the sun, spills and other elements, you will be ensuring that its lifespan is drastically extended.
Saves money
Investing in an asphalt sealcoat is a great way to ensure that you won't have to repave your surfaces in the near future, giving you a solid return on investment.
Works on old and new surfaces
Any asphalt surface can receive asphalt sealcoating, regardless of its age or condition!
Our asphalt sealcoating services are executed as promptly as possible. We typically aim for just 24 hours of downtime for automobile traffic, and four to six hours of downtime for pedestrian traffic. Our goal is to get you back in business as quickly as possible!
Reasons for Seal Coating?

Saves Money
Restore "New Look" to Pavement
Slows Oxidation and Sun Damage
Prevents Water Penetration
Increased Flexibility
Protects Again Gas and Oil Spills
Easier to Clean and Maintain
Protect Your Pavement
Are you ready to take the steps necessary to protect your pavement? Call Sunstar Seal Coating, Inc. today at 623-204-1302 to learn more about our extensive asphalt paving and asphalt sealcoating service offerings!