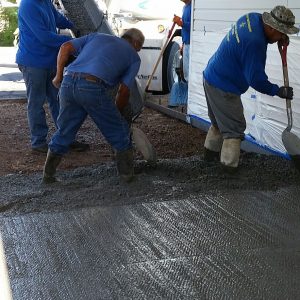 Concrete is one of the hardest and most durable paving surfaces available. You can rely on this ancient mixture of sand, gravel and cement to provide your home or business with the walking and driving space that it needs. Sunstar Seal Coating, Inc. is one of the best concrete contractors in Glendale, AZ.
We are known for providing extensive concrete pouring services to both commercial and residential clients. You can rely on us to deliver the highest quality concrete surfaces possible. Our concrete company will work around your schedule, and diligently minimize downtime so that you and your guests can continue enjoying your property.
Concrete Services
Sunstar Seal Coating, Inc. is the premier provider of concrete in Glendale, Maricopa County, Peoria, and Phoenix, AZ. Here are just some of the services you can expect if you hire us for your concrete pouring needs:
Detailed pouring process
We employ a thorough and extensive pouring process that involves a large amount of site preparation. Thanks to our attention to detail, you can count on us to deliver long-lasting concrete surfaces.
Residential services
Our concrete company's services are perfectly suited for residential clients hoping to enhance the value of their homes and increase their property's curb appeal. We can furnish driveways, sidewalks, patios and more.
Commercial services
We are known for providing its commercial concrete clients with some of the most extensive service offerings available in the region. We can assist you with curbing, developing sidewalks and bringing your site into ADA compliance.
Alternative finishes
Your concrete can stand out if you rely on one of our myriad decorative finishes. We can utilize a salt finish for a speckled, textured look, a broom finish for enhanced traction and a color finish that will add vibrancy and hide spots.
Reasons to Concrete

Durability
Low Maintenance
Aesthetic Appeal
Hire Concrete Contractors
Sunstar Seal Coating, Inc. is here to provide you with the most competitive concrete services available. You can count on us to furnish you with the most reliable concrete surfaces in the Glendale, AZ region. Contact us today at 623-204-1302 to learn more about how our concrete contractors, demolition services, and asphalt sealcoating can help you improve your surfaces.