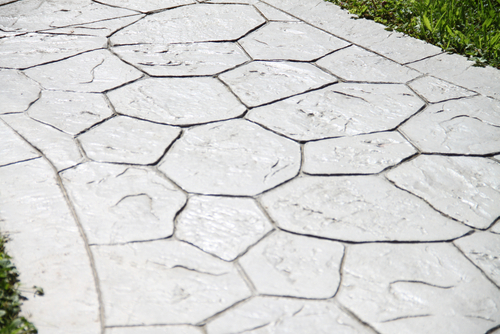 Concrete is a highly versatile flooring material that offers a variety of finishing options. These finishes can be textured, natural, colored or stamped. Modern techniques are turning plain concrete into a luxurious flooring material that adds depth and texture to spaces. This is surely a trend that's going to stick around in 2023.
1. Textured Finishes
Texture finished finishes are a great way to add a unique architectural touch to your home. They can give a room a more cohesive look and also help to hide any flaws in your drywall. There are a wide variety of textured finishes available, depending on what you're looking for and how your project is going to be done. Some finishes are based on additives, like sand particles, while others use different techniques to achieve the finish you're after. Some of the more popular textures include orange peel, Monterey drag, and English stucco. These finishes work well with a variety of decor styles and are easy to clean.
2. Natural Finishes
Natural finishes are becoming a more prominent option in interior design. They're not only a great way to highlight texture, but they're also easy to maintain and provide a sense of permanence. And while concrete is an excellent choice for floors, countertops, and other surfaces, this versatile material can be used in a variety of other ways as well. 2023 interior design trends are driving a renewed interest in innovative uses of concrete that achieve both ornamental and functional goals. This includes using concrete as a decorative finish on walls and other features, such as a wall-mounted display or a patterned backsplash.
3. Dyes & Stains
Dyeing and staining concrete enables the creation of earth tones and vibrant colors. They also allow for stenciled designs, logos, or other motifs to be created on interior concrete surfaces. Dyes penetrate the pores of concrete and fill them with small particles that impart color. This method is much more durable than chemical stains or acrylic stains as the dye particles are much smaller in size. They can be used on a variety of interior concrete surfaces, including floors and countertops. Dyes have a longer drying time than stains and require sealing with film-forming sealers to enhance and protect the color. Stains can be divided into three categories: film-forming, penetrating, and acid stains. Each type of stain utilizes different technology to create distinct decorative looks.
4. Color Hardeners
Color hardeners are powders that are hand broadcast onto freshly placed concrete and worked into the surface with a float or trowel. They color only the top layer of the concrete and tend to be more intense than integral pigments, which color the entire slab. They are a great option when more control of the final surface color is needed, or when it is not practical to use integral colors. With a wide range of colors and ease of use, they can be used to tint any type of decorative concrete project. They also provide a dense surface that is more abrasion resistant than standard concrete.
5. Stamped Finishes
Stamped concrete is the perfect way to add a unique touch to any outdoor project. It can mimic many different materials including wood, stone, brick, and tile and is easy to maintain. Its flexibility in pattern and color is unparalleled. This finish can also be used in the interior of your home to create a more natural-looking look on countertops and floors. Unlike real masonry materials, stamped concrete does not require finishing in the joints like loose sand, polymeric sand, or grout. This allows the slab to be solid and less likely to crack. However, this finish does come with its share of imperfections that can be a pain to fix but are cosmetic and aesthetic only.
6. Polished Finishes
Polished finishes are a great way to create a more sophisticated look. A polished finish is a smooth, shiny surface that reflects light. It's versatile enough to complement both modern and traditional styles. Plus, it's durable and easy to maintain, so you can use it for years to come. A polished stainless steel finish is often an excellent choice for your kitchen or bathroom.
7. Patterned Finishes
If you're looking for a simple way to add texture and interest to your concrete surfaces, consider patterns. These can be created using a variety of different tools, including floats and trowels. Float and trowel finishes look like multiple crescents that repeat. They can be coarse or medium in intensity depending on the tool used. This finish is a great choice for patios and walkways because it adds traction to slippery surfaces. It also provides a natural-looking finish that can be colored or left plain. A broom finish is another popular option, especially for sidewalks and driveways. It can be light or coarse, depending on the type of broom used. This is a great option for areas where you don't want to spend too much money on a fancy finish. It's also a good option for places where you don't want to have to deal with cracking and patching.
8. Geometric Patterns
Geometric patterns use shapes and lines to create eye-catching, original designs. They've been a staple in design since ancient civilization cave drawings to the Memphis Design style of the 1980s, and they continue to be influential today. Patterns can be a great way to add depth to your design, especially when used sparingly. They can be an excellent way to draw attention to a specific product, brand, or word, and they also offer a clean and consistent look that will make your design stand out. When choosing a geometric pattern, think about how you want the design to feel and what types of shapes will work best for your project. For example, using diamonds and other shapes that will guide viewers can help make the design easier on the eye.
9. Metallic Finishes
If you're looking to add a unique and eye-catching feature to your concrete floors, metallic finishes might be the answer. These epoxy coatings contain special reflective pigments or real metallic powders that replicate copper, silver, aged bronze, nickel, and other shimmery patinas. This type of coating is popular for residential decorative concrete and features a designer look that's easy to clean. These finishes can be applied using a variety of creative techniques. They can be used to achieve a single color, a two-tone effect, or even a three-color effect by combining different metallic colors on the same base coat.
10. Customization
Customization is the ability to alter an existing product or service to meet a specific customer's needs. It can be as simple as a re-ordering feature for an online store, or as complex as offering customers the option to personalize their concrete finishes. In either case, it's a win-win for both the business and its customers. Customization is also a design trend that will be in high demand in 2023. This is because it's another functional yet beautiful way to add a touch of luxury to a space without breaking the bank.
Categorised in: Concrete, Concrete Contractors
This post was written by admin