It'd be nice if we could just show up at a job site and start seal coating a parking lot or driveway regardless of the weather. As seal coating contractors, being able to work wherever and whenever would make our lives a whole lot easier. Unfortunately, that's not how it is.
The weather doesn't have to be perfect before starting seal coating in Phoenix, AZ, but it does have to be within a certain temperature and humidity range for the product to take full effect. Continue reading to learn all there is to know about the weather during a project:
Temperature: For it to be totally effective, it should only be applied when the temperature is 50 degrees or higher for a 24-hour period. If the air temperature isn't warm enough, you can guarantee that the ground temperature will be too cold. If the ground temperature isn't just right, the sealer won't adhere properly, and your asphalt will still be vulnerable to the elements.
Precipitation: If the ground is wet, you can forget about applying seal coat that day. As you can probably imagine, seal coat won't adhere as well on wet pavement. Additionally, the ground can't get wet for a few days after the seal coat is applied. So, if there's any rain in the forecast, we'll have to reschedule your seal coating project for a different day.
Humidity: The dryer the day, the better! Any moisture or fog in the air can throw off the drying process, which will leave your pavement unprotected. That's good news for pavement contractors, too. After all, who wants to be outside working on the hot pavement when it's super muggy?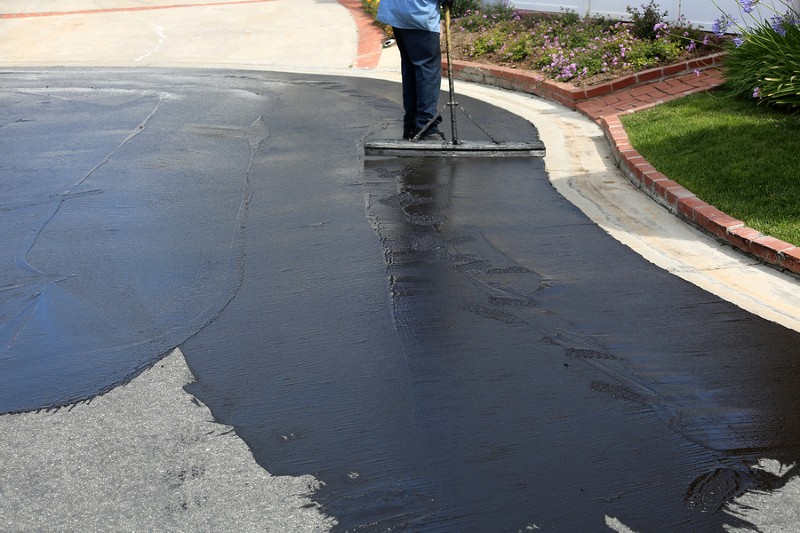 Can I sealcoat my driveway by myself?
If you're an avid DIY-er, you're probably hesitant to let anyone other than yourself work on projects around the house. While that might be an okay philosophy for small projects, seal coating is best left to the pros. Here are a few reasons why it's a good idea to hire a contractor instead of trying to seal coat by yourself:
You don't have the tools or materials: Unless you've sealed your driveway in the past, there's a very slim chance that you have all of the necessary supplies to perform your seal coating project. There's no point in buying a bunch of tools for a one-time project. Instead, just hire the pros who already have all of the right tools to get the job done.
Pros save time and money: Going out and purchasing supplies to seal your driveway is a huge waste of time and money. Unless you really want to spend your money on seal coating supplies and waste your weekend out in the driveway, hire a pro!
You're inexperienced: Practice makes perfect when it comes to seal coating an asphalt surface. After many years in the industry, our crew members have perfected the process, ensuring your driveway is sealed and protected.
Sealcoating in Phoenix, AZ
When Mother Nature cooperates, be sure to choose Sunstar Seal Coating, Inc. for your seal coating in Phoenix, AZ. Give us a call today to get an estimate or learn more about all of our services!
Categorised in: Sealcoating
This post was written by Writer